This post was originally published on this site
Former Republican Arizona Attorney General Mark Brnovich declined to publish investigative findings by his office that disproved 2020 election fraud claims, according to documents released February 22 by his Democratic successor, Attorney General Kris Mayes. 
Mayes, who assumed office in January, released three documents: a previously unreleased "interim findings summary," a draft with staff comments of a published "interim report," and a September memo summarizing the investigation's conclusions. Brnovich's team did not draft a final report, a Mayes spokesperson told The Washington Post.
According to the memo written by Reginald Grigsby, a senior agent in the Arizona attorney general's office, Brnovich's investigators assessed 638 complaints, opened 438 investigations, and as of September 2022, submitted 22 cases for prosecution. Though his team identified supposed structural and operational flaws in the state's election procedures (outlined in the interim report), its unpublished findings debunked each theory that alleged significant—let alone potentially outcome-shifting—election-fraud theories tied to the state's 2020 presidential election.
"Agents and support staff have spent more than 10,000 hours investigating allegations of voting irregularities and reviewing alleged instances of illegal voting submitted to our office by private parties.…In each instance and in each matter, [Cyber Ninjas Incorporated, True the Vote (TTV), Verity Vote, and elected officials] did not provide any evidence to support their allegations," reads the memo. "The information that was provided was speculative in many instances and when investigated by our agents and support staff, was found to be inaccurate."
State lawmakers who had publicly alleged fraud recanted when questioned by investigators. "In interviews with the various media outlets, Arizona State Senator Sonny Borrelli alleged there was a cover-up with regards to election irregularities," reads Grigsby's memo, which also adds that "In an interview with agents, he did not repeat that allegation." Similarly, the memo says, then State Representative Mark Finchem publicly alleged more than 30,000 fraudulent votes. Speaking to Brnovich's office, however, Finchem said "he did not have any evidence of fraud and he did not wish to take up our (investigators') time."
The memo also targets supposed proofs of fraud supplied by private entities Cyber Ninjas and TTV (the latter's "evidence" was central to Dinesh D'Souza's debunked documentary, 2000 Mules). "Our comprehensive review of CNI's audit showed they did not provide any evidence to support their allegations of widespread fraud or ballot manipulation," the memo reports. "Based upon our review of CNI's audit, we identified 1 instance of deceased voting, which was not prosecuted as it was accidental. There were 2 instances of double voting that were submitted for prosecution." Instead, Cyber Ninjas' allegations relied on inaccurate databases, fabulist interpretations of routine events, and baseless accusations, Brnovich's office found.
TTV simply declined repeatedly to provide to investigators its purportedly conclusive evidence of fraud—despite myriad promises to do so. Further, at various intervals, TTV asserted that it had already disclosed the evidence to Brnovich's team or to the FBI, claims Grigsby disputes. "TTV says they gave the information to the FBI's Phoenix office, while also saying they were informants for the FBI office," he wrote.
Having never provided the information to us as promised, TTV said we should contact the FBI to obtain copies of the information they had provided to them. Checking with the Phoenix FBI office, they tell us they met with TTV but they never received any such information from TTV. TTV also reported giving the information to the San Antonio office of the FBI; we have not been able to verify this assertion. The Phoenix office says (TTV representatives) Ms. (Catherine) Engelbrecht and Mr. (Gregg) Phillips are not informants for the FBI; they also said they were told by both of them they had provided the information to our office. This is patently false.
Here is Grigsby's account of investigators' attempts to obtain that evidence: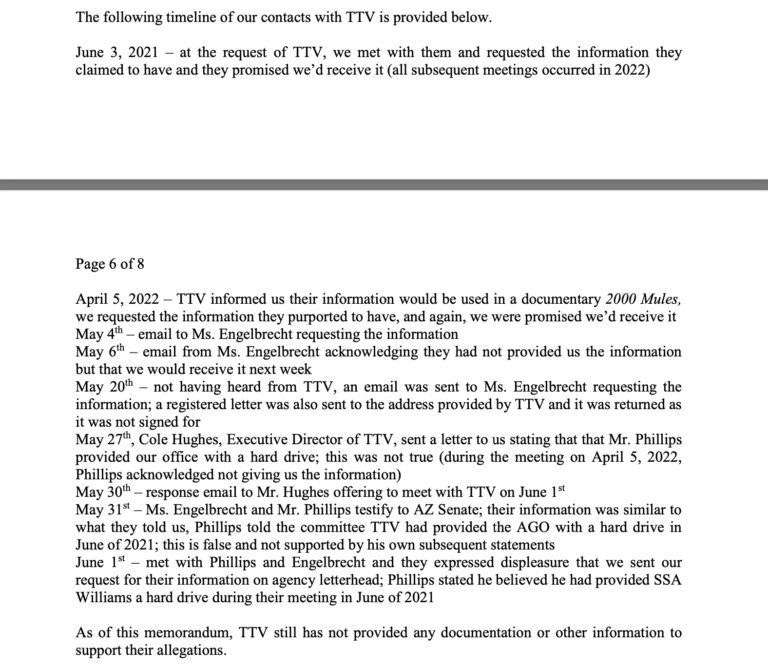 Immediately after Election Day, 2020, Brnovich forcefully and publicly rejected allegations of election fraud. "It does appear that Joe Biden will win Arizona," he told Fox Business host Neil Cavuto in an interview on November 11, 2020. "There is no evidence, there are no facts that would lead anyone to believe that the election results will change." 
Arizona Democratic Gov. Katie Hobbes has advocated an ethics investigation into Brnovich's conduct, The Post reported Saturday.