The $35 million sports and learning complex planned for Louisville's West End is picking up support from area business leaders.
The Louisville Urban League, which is leading the efforts for the development, announced Thursday that it has personal commitments totaling $3 million from six Louisville business leaders: Alice and Wade Houston, Junior Bridgeman, David Jones Jr., Mary Gwen Wheeler and Christy Lee Brown.
The Houstons and Bridgeman have been leading the fundraising effort, which has support across the business community, as you can see in this video.
"It was important for me, for this project and for this community that Alice, Wade and Junior be the first major donors for this project," Sadiqa Reynolds, CEO of the Louisville Urban League, said in a news release. "However, it is just as important that other community leaders join in helping to make this project a reality."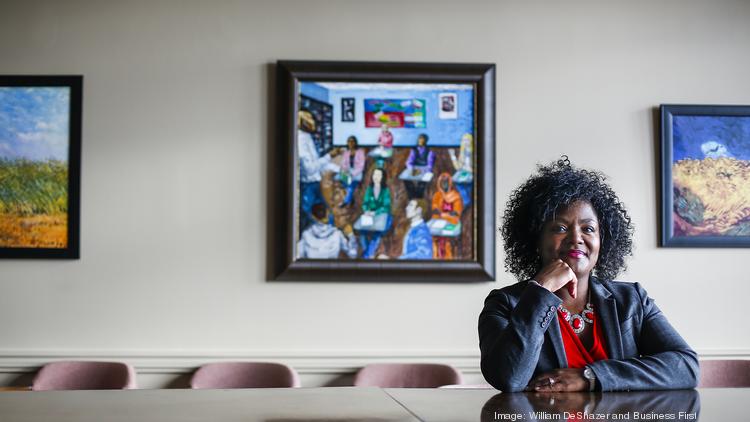 Alice and Wade Houston's pledge of $500,000 was announced in September. The amounts of the other individual contributions were not disclosed.
"Mary Gwen [Wheeler] and I are stepping up to answer the call of Alice, Wade and Junior," Jones said in the release.
Wheeler, who is married to Jones, added: "We not only believe in this project and Sadiqa's passion, but also appreciate her ability to bring in the expertise needed to build this complex. She is surrounding herself with the right people, and we stand with her."
The project calls for transforming a 24-acre brownfield site known as Heritage West at 30th Street and West Muhammad Ali Boulevard, in the Russell neighborhood. It would include a state-of-the-art indoor track facility with a hydraulic banked floor equipped to host NCAA and USA Track and Field events. The complex is expected to be open for competition in 2021.
In June, Louisville Mayor Greg Fischer pledged $10 million in government funds toward the construction costs.
"We are excited that these influential community leaders believe in the transformative power of our project," Reynolds said. "Christy, David, Mary Gwen, all of them, have been adamant that their gifts should serve as a challenge to the rest of the Louisville community, with the hope that others will match their efforts. With your help, we can quickly raise an additional $3 million and continue to push this project forward."
To learn more about the project, go to SportsandLearningComplex.org.
https://www.bizjournals.com/louisville/news/2018/11/01/exclusive-high-profile-business-leaders-commit.html